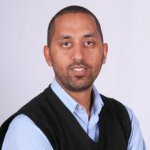 After doing accounting articles Gerschwin went on to be an Accountant/System Administrator for a printing company. Being a small, family owned business, he soon got to work closely alongside the owner, his 'Business Dad', being challenged to think practically and not just about the numbers.
During those 12 years he also got to work as estimator and client liaison all the while learning and developing a love for manufacturing.
In 2014 he joined the QuickEasy Software team as an independant agent and now runs Savvy Business, specialising in implementing a QuickEasy solution for small to medium print, signage and manufacturing companies.